We've had a great trip! We are at that point where you're about to leave, you're packing up, checking the room for things you forgot to put in your suitcase (razor, shampoo you brought from home), it's not quite time to check out, but there's really not enough time to do anything else, and you're already missing the place you are at the moment.
We've loved our time on Kauai - it's changed in the 21 years since we were last here, but not that much. We wanted quiet and rural, and that's what we got. We came during the rainy season and got nothing but one gorgeous sunny, 75 degree day after another. It was never warm enough in the room to need the air conditioner, and we loved sleeping with the sliding glass door wide open, listening to the ocean all night.
We watched the sunsets.
We went for a power walk each morning.
We spent hours looking at this view from our balcony.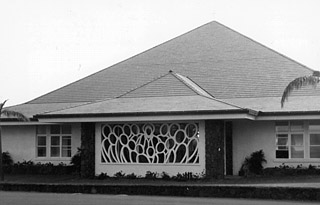 And being good Catholics, we even went to Mass at St. Raphael's, the oldest Catholic church on Kauai. STM noticed the windows, how the circles depict the Last Supper. We had a great time trying to figure out who were the locals, and who were the tourists.
But most of our days were spent right here. In our favorite lounge chairs, with our 50 SPF sun block, hats, glasses, and shirts. Despite our efforts to be in the sun and not get burned, we did. But not too badly. When you're white-as-ghosts-Portlanders, what can you expect?
We're not ready but ready to come back. It's been just the right length of time, always go home wishing you could stay one more day, that's what I say.
Tomorrow we'll be back to the real world, which, after having a week to step back from and reflect upon, is pretty darn good.
We are blessed and grateful. Mahalo!