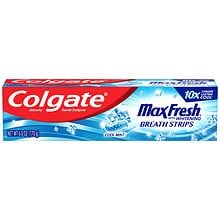 Dear Colgate:
My son sent me to the store to buy him "spearmint or watermelon" toothpaste. Those two flavors are very hard to find, if not impossible. I browsed the vast selection before finally selecting your Cool Mint with Mini Breath Strips, Max Fresh. I thought I might be able to convince him that "cool mint" was a euphemism for spearmint.
First thing he asked me when I picked him up from school, was if I'd gotten the spearmint or watermelon toothpaste. I told him I got him one I thought he'd like. He rushed through the door, wanted to brush his teeth the minute he got home, and while still holding the toothbrush in his mouth with one hand, grabbed paper and pencil and wrote with the other:
(From scale 1 to 105 I give this toothpaste a 103.112)
Upon spitting and thus allowing his mouth to speak the praises of the toothpaste quite loudly, he said, "Bring on the greatness! Oh, yea, this toothpaste is great! I give praise to God! It curls my toes!"
So. If you're looking for a product endorser, look no further.
Sincerely,
Carrie Link