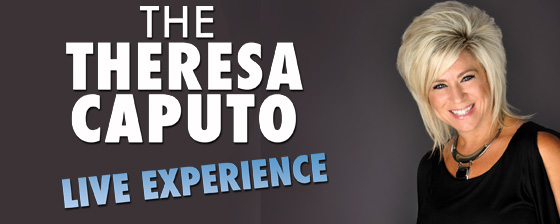 Wednesday night one of my favorite people, Susan, and I went to "experience"
Theresa Caputo
live, and let me tell you, it was an experience I will not soon forget (and I forget darn near everything). If you love her on TV, you will go crazy seeing her live. She is everything she is on TV and then some. "Uncut." She swears, she laughs at herself, she knows what she knows and doesn't apologize for not knowing what she doesn't know (someone said they owned a hobby farm, and she said, "Yea, I don't know what that is.") She is so good with herself it is refreshing. On TV it seems like everything she channels instantly "clicks" with the people she's reading, but I'm sure there are all kinds of bits and pieces cut to make it fit into a tidy half hour. Live, she sometimes says something that gets a "no," but she persists. "I may not be explaining the symbols I'm seeing in a way you understand at first, but your loved one insists..." and she will work and work until the "click" happens. And it always happens. And more than once the "click" was for the person next to the person she was reading. She'd say something, and then the person right there would say, "
I
understand about the potatoes," (which was how the hobby farm came up).
She told one man his father had learned many lessons on the other side and had grown. She explained that there are levels on the other side - the lower the level, the more lessons yet to learn. I've always "thought" that, too. Thought not being the right word - I actually had a visitation 25-years-ago from a loved one that had committed suicide. He "explained" to me in my "dream" that there are levels - if you don't finish your work here in the physical world, you go on working on finishing it on the other side, and move up the levels there.
Theresa said we do have a destiny, but also free will. We can control our destiny with our choices, and others can change our destiny, too, but if that happens, then we are fulfill that destiny on the other side. When we make "bad"choices, we just have more to do "later," but it gets done.
There were 3,000 people in attendance (I'd say 2/3 women), and she probably read 30 people. Some she read briefly, some she really lingered with. There was one young man sitting in the very front row that she just quickly said, "Your loved ones want you to know that some people are just mean. Ignore them. Don't let mean people keep you from doing what you want and need to do - SCREW 'EM! Does that make sense to you?" Through tears in his eyes, he nodded "yes."
She asked one woman if she had a medallion of the Blessed Mother hidden - maybe in her bra? The woman about lost it and said, "It JUST broke! I had it around my neck and it JUST fell off and ended up in my bra! And it was WELDED together!"
There were lots of tears and lots of laughter. There were wild shouts when Larry (her colorful husband) showed up down near the stage and waved to all of us. There was hilarity when Theresa stopped a reading to tell a woman seated nearby, "I LOVE your hair!" Naturally, the woman's hair bore a striking resemblance to Theresa's. Speaking of Theresa's hair - one woman getting a reading with her boyfriend, gave a gift to Theresa at the end. The woman said she was a hairdresser and Theresa pulled from the bag a can of hairspray and immediately gave herself a good dousing, and it was obvious she could do this maneuver in her sleep.
Theresa opened by pointing out her shoes and saying, "If nothing else tonight, we can talk about my SHOES!" They were Louboutins with crystals embedded all over them. They were perfect and so her. I couldn't take my eyes off of them. I couldn't take my eyes off of her. I couldn't take my eyes off all the people having a shared experience. And there was no denying that Spirit was alive and present in a very, very big way.