Didn't intend to start my blogcation until next week, when I will be sunning myself with STM on the beaches of MAUI, but I guess my fingers knew I needed a little extra time off. Just not a whole lot going on to report on, and that is a good thing. My resolution for 2011 was: boredom. While 2011 has been anything but, I am enjoying a nice little lull now, and let me tell you, it feels good.
Can't get enough of this:
And can't stop reading this:
And every now and then I pop up to use one of these babies, on a light fixture that hasn't seen the likes of it for oh, say, five to six years: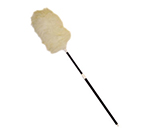 Did have an IEP meeting for Rojo at his new school, and this time he had to go, too. Just going into the basement and pulling out
that
box set off a PTSD episode, and I was dreading the whole thing something fierce. Here's the thing: it was great. They've found a way to tap into services through the school district this school is in (different district than we've dealt with for 15 years), and they will come to HIM, during school, and teach social skills! They are calling it "social cognition," which I am too busy drinking tea and reading my good book to Google and learn more about, but they both sound like good words, and coupled, they must be twice as good, right?
My tea is getting cold and this book isn't going to finish itself, so until later, TTFN!