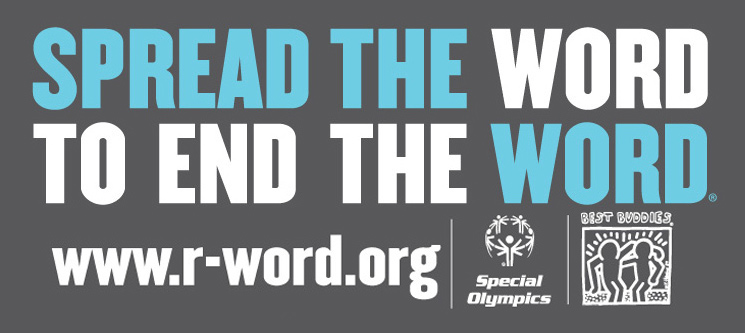 You can't turn on the TV, read the paper, or eavesdrop on a conversation for more than five minutes, without hearing the word "moron," "idiot," "stupid," "dumb," or the big offender, the R-word. Our culture allows this, one might even say, encourages it.
If you are a racist, sexist or ageist we call you on it, but disparage those with "less than normal intelligence?" Bring it! Laugh it up! Make yourself feel better while being in good company!
Did any of you happen to see "Parenthood" last Tuesday night (or any night you and your DVR called it up)? Adam, the father with a son with Asperger's, punched a guy in the nose at the grocery store, for calling his son a, oh, I can't even say it, the R-word. And the man so totally deserved it. I so appreciate what this show is trying to do to raise awareness of special needs. Although my son is "on the spectrum" and the kid on the show is "on the spectrum," too, that is pretty much all they have in common. Yet I so relate to the story line, and their family could by ours in so many ways, complete with the 16-year-old junior in high school daughter, that gets the short end of the stick every single day, pretty much. They've got the mom that is fully consumed with meeting the needs of her son, and the dad just out there trying to make a living while constantly being pulled away by yes, the all-consuming needs of the special child.
I was recently reading
Mennonite in a Little Black Dress
per several people's recommendation. I was liking it, even smiling on occasion, until she repeatedly used the R-word disparagingly. For. A. Laugh.
It's not funny.
Sticks and stones may break bones but it's the words that we use with each other that wound the deepest.