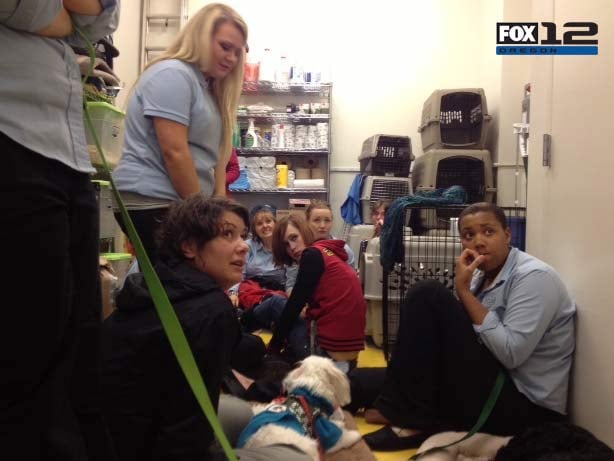 By now you've probably heard about the terrible tragedy in Oregon, where
a gunman opened fire
at the mall. That is the same exact mall where Rojo and I were just 24-hours (almost to the minute) before. The people in line to see Santa fled, Santa ducked and covered, two people died, one person was seriously injured, then the man killed himself.
I don't even know what to do with all this. I, who never watch the news, watched for three hours straight yesterday, staring in disbelief at what I knew to be true, listening to the same information over and over and over, hoping it would somehow change.
Rojo had big plans for us after school - I was to pick up Nancy on the way to get him, then the three of us would get yogurt at the Clackamas Promenade, then go to Costco because we were totally out of Tree Top fruit snacks, and that was the biggest problem in our lives at the time. Nancy and I got Rojo at 3:30 sharp, and five minutes later his whole school went into lockdown. Can you imagine Rojo in lockdown?
As we drove the short distance to the mall, we saw police car after police car, sirens blazing, but we couldn't quite tell where they were going, only that they were coming from all directions. By the time we got to yogurt we'd seen at least 20, and more were on their way. As Rojo started in on his second bowl of yogurt, a man ran into the place and said, "What's going on at the mall?" The workers there said, "There's a gunman in Macy's. 60 shots have been fired." (That number turned out to be exaggerated, but that was the number that everyone was hearing at the time.) It was surreal. Nancy, Rojo, me, the only customers, two trapped employees and some guy off the street, gathering our information and plan, suddenly thrown together by fate.
We told Rojo we would have to go to Costco another day - we wanted to get home and off the streets, we wanted to get in front of the news. Rojo protested briefly, but quickly saw that we weren't kidding. I think even he was shaken up a bit, although he argued to the contrary, continuing to blather on about minutiae, as we watched from across the street, the number of ambulances and police cars continue to increase their presence at the mall.
I know of one friend and neighbor who had just been to a movie with her elderly mother. Because her mother needed to use the bathroom before going home, they went out a different exit. Had her mother been ready to leave when the movie was over, they would have walked straight out into the food court where the shots were being fired.
Another neighbor and classmate of Rojo's was at the food court at the time, she and her friends abandoned all their things and ran out of the building. They are shaken up, but fine.
A friend of Woohoo's works at the mall. She had to hide in the building until the All Clear was called.
Terrifying.
Horrific.
Lots of stories coming out about all the good will and cooperation that was shown, too. People helping each other. Store employees getting their customers in safely and then locking the gates. The elderly being helped to find safety, one man carried a pregnant woman while her husband picked up their toddler and ran.
Today is 12/12/12, the Feast of Our Lady of Guadalupe. Never have we needed her more.
Mary, pray for us sinners, now, and in the hour of our death.
Amen.